Posts Tagged 'Jack Warner'
So, apparently Seattle also invented the work week – which prevented myself and Nick from making any posts during the past week and a half.  Lucky for us, we got the last laugh (with much sleep deprivation).
Thanks to the Philly Soccer Page for pointing out that Philebrity.com has a poll running for "Who to support now that the Phillies lost the playoffs, and the Eagles suck".  Union are currently behind the Flyers 121 to 145.  There are 64 jackasses who voted "2 teams is enough" (Seriously, not knocking these guys – but who goes to philebrity dot com anyway!?  Who that is an average stereotype for an eagles fan on top of that?)  And feel free to view the results and feel sad for the 12 people who voted for the Sixers.
Telegraph.co.uk has an epic piece about the CFU / CONCACAF bribery scandal that happened in the Caribbean featuring star players Bin Hammam and Jack Warner.  The best part about this piece – it's not a piece, but a video that proves every single person is guilty.  The best part about this?  Well, you have to see for yourself – especially since it's from Jack Warner's own mouth.  There's various comedic jems in there.  Bill Archer has a blog that points out various comedic parts of the video, especially if you have been keeping score with the whole scandal.  Adam Sandler couldn't make this shit up.
What's sad, red, and doesn't know what the fuck it's doing?  Two possible answers in this (Pig latin: SMNTUlay, Orontotlay efflay eclay)…
Okay, maybe three.
Our last regular season home game is this Saturday – what does that mean?  The highway ramps next to the stadium are finally accessible.
Remember – They're call girls when they're alive.  When dead, they're just hookers.
I apologize for touchlines this week not being as blatantly bad humor and more of a link to link piece – but I really feel like my brain's in a coma from the past week… and I have to get it back in shape for the bearfights this week – it can only take so much damage you know.
Welcome to your bribery alleged update of touchlines.  This time we'll score twice as much.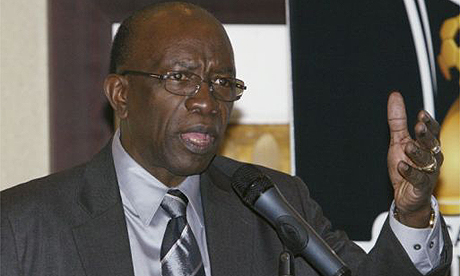 "Uncle" Jack Warner has been dooped!  His vice president, or assitant, or however this oligarchy works, has brought forward allegations that Jack Warner, president of CONCACAF, had set up a meeting with other CONCACAF members with FIFA presidential candidate Bin Hammam (the guy who is responsible for Qatar in 2022) so that they can publicly bribe for votes behind closed doors for a whopping 40,000 USD.  If you want to secure votes from those who are pocketing over 6 figures from other bribes, make sure it's more than an accountant's starting salary.
Word has it (which by this posting is probably news) we have signed the 33 year old Serbian striker.  Next week we are going to be signing his bedside nurse.  She can do double time for Ruiz.
From the birthplace of soccer, Fulham have officially qualified for UEFA Europa league on Fair Play.  I wonder if I can get into the basketball all star game based off all of my "Good Sport" trophies I received when playing CYO.
The Gold Cup is around the corner, and NYRB lose more reasons for people not to come to the stadium.
In all seriousness, Juan Agudelo, Rafael Marquez, Tim Ream, and De Rosario are all called up for their respective National duties.  In looking at this, Nick and I forgot that Canada existed and both said "oh yea, damn canadian".
Ruiz called up for international duty.  90% of Union fans rejoice.  Why?  Because our leading scorer is going to be gone.  It's all in the stats.
On July 15th, the Inaugural River Cup will be played by the FO of the Philadelphia Union, and the SoBs of… well… the SoB's.  Say what you will about the SoB's, but nothing is finer than seeing a ginger in a kilt try to play soccer.
The trip to Toronto will show us exactly who can't cross international borders… I'm looking at you Nakazawa.
Real Madrid is officially our "Big friendly at the Linc".  Some people are happy, others are mad at the prices, where as, i'm laughing my ass off.  Why?  My girlfriend won't get to see her 'other' "favorite" soccer player because she'll be out of country.  She's 0 for 2 for 'soccer heart throbs'.  Schaudenfraud my friends.
Categories:
Touch Lines
CONCACAF, doop, FIFA, Fulham, Gold Cup, Jack Warner, Kyle Nakazawa, MLS, Philadelphia Union, Real Madrid, Soccer, UEFA Europa League